Activator® Methods Libertyville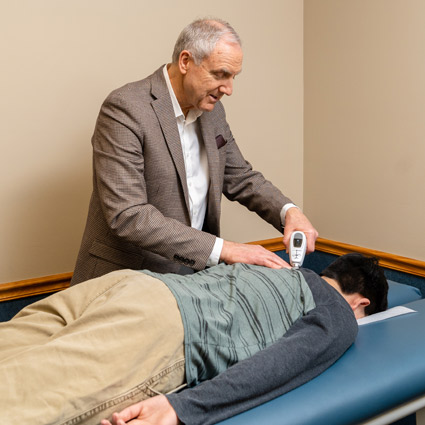 The Activator® Method is the most widely-researched and published technique in all of chiropractic care. This gentle, low-force technique allows us to provide safe, effective adjustments for patients of all ages, from infants to seniors. At Bennett Chiropractic Care, we utilize this technique exclusively, meaning you will not have any high-force, manual adjustments with the twisting, cracking and popping many people associate with chiropractic care.
Dr. Thomas Bennett
holds the highest certification in Activator Methods, and he has been an instructor of the technique since 2008.
A Gentle, Focused Method
You may have seen the Activator instrument in other practices—people sometimes call it a "clicker." It is a hand-held instrument that allows Dr. Bennett to provide precisely-targeted adjustments where needed. However, the Activator Methods are not just about the instrument. It's a system of analysis as well, using a series of leg balance tests to determine where your body is "locked up."
Based on these leg checks, Dr. Bennett is able to determine the root cause of your pain and symptoms. This is important, because often your pain can be caused by a problem with a joint in the spine that's nowhere near where you're feeling pain. This profoundly powerful technique allows Dr. Bennett to know both where and when to adjust—meaning that, as you progress, you may not need the same adjustment at every visit, and you'll never be adjusted when you don't need to be.
There are hundreds of tests for the spine and extremities, but Dr. Bennett will focus on the ones that make the most sense for the symptoms you are experiencing. With his 40 plus years of experience and extensive training in Activator, he has achieved excellent results helping patients with problems that have stumped other chiropractors and medical practitioners.
Quick and Painless
Activator adjustments are quick—it takes only a few minutes to do the leg checks and adjustments—and the process is very gentle.
Babies often sleep right through their adjustments, and adults sometimes are amazed at how comfortable the adjustments are.
Schedule Today
Contact us today to get started with safe, gentle Activator adjustments.
CONTACT US »

Activator® Methods Libertyville, Mundelein & Vernon Hills IL | (847) 680-9191